Japanese maps
The geography of the Edo period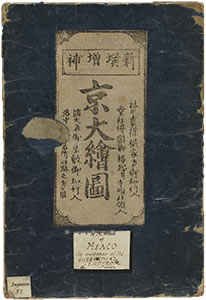 ‌In partnership with the School of Arts Languages and Cultures, the Japan Foundation and The Great Britain Sasakawa Foundation, The University of Manchester Library has recently digitised a number of maps from our Japanese Collection.
These Japanese Maps are now uploaded into Library Digitised Collections as part of the Maps Collection. They are freely available for research, teaching and learning purposes, as well as to those with an interest in cartography. Both metadata and images can be downloaded or printed directly.
"The format and fragility of the maps makes it virtually impossible to study them outside the Library. By digitising this material, it becomes freely available to students, researchers and the general public around the world. We hope that the increased awareness and accessibility of these collections will help foster new international research collaborations."
About the collection
The Japanese Collection, assembled by the 25th Earl of Crawford in the 1860s and 1870s and purchased by The John Rylands Library in 1901, is not large by international standards, but it contains manuscripts and printed books of great interest and rarity. Amongst them are a number of 18th and 19th century maps together with topographical or geographical books and manuscripts.
A full list of the collection was completed by Professor Peter Kornicki and published in the Bulletin of John Rylands Library.
The aim of this project was to select and digitise a number of maps and associated books and manuscripts from the Library's Japanese Collection in order to preserve and make them available for teaching, research and study purposes. At this stage, 28 maps, predominantly published in Japan during the Tokugawa or Edo period, have been selected; the maps represent the whole of Japan or its cities, such as Kyoto and Edo (current Tokyo).
Because of their format and fragility comparison side-by-side is very difficult; digitisation can be an ideal approach in making possible the close comparison and contextualisation of a range of maps with related material.

We are very grateful to the Japan Foundation and The Great Britain Sasakawa Foundation for providing grants to develop our collection of digitised Japanese Maps.
Japanese 82
Kyō ōezu (Map of Kyōto). First published in the Kyōhō era (1716-36), but this copy was printed at some time in the years 1728-34 with revisions to the original blocks.
Japanese 95
Oedo ōezu (Map of Edo). First published in 1843, but this copy was printed from blocks altered in 1861.
Japanese 211
Tōkaidō bunken no zu. An atlas of the Tokaido highway between Edo and Osaka, compiled by Ochikochi Doin and illustrated by Hishikawa Moronobu. Published in [1690], but this copy is a later reprint.
The Great Britain Sasakawa Foundation
Japanese 29
Fujimi jūsanshū yochi zenzu. A map of the area around Mt Fuji by Akiyama Bokusen. Published in 1843
Japanese 98
Bunken edo ōezu (Map of Edo). Published in 1861
Japanese 103
Zōshū kaisei Sesshū Ōsaka chizu (Map of Osaka). Originally by Sawada Roshō, revised by Ōoka Hisakata. Published in 1806.
Japanese 103a
Zōshū kaisei Sesshū Ōsaka chizu (Map of Osaka). Originally by Sawada Roshō, revised by Fujimura Naoyuki. Published in 1839.
Japanese 107
Gokaikō Yokohama no zenzu (Map of Yokohama). By Hashimoto Gyokuransai, also known as Gountei Sadahide. Published in 1860.
Japanese 165
Honchō zukan kōmoku. Atlas of Japan by Ishikawa Tomonobu. Published at some time in the early 18th century and reprinted with revisions some time between 1717 and 1724.