Art and Archaeology Library
The Art and Archaeology Library supplements the stock at the Main Library and contains copies of recommended reading and core texts. The Library is located on the fourth floor of the Mansfield Cooper Building.
Opening hours
This Library building remains closed for now.
We're working hard to safely reopen our Library sites so you can access our physical collections and study spaces again.
See the 'Service availability' page for more information:
Address
Art and Archaeology Library
Floor 4
Mansfield Cooper Building
The University of Manchester
Oxford Road
Manchester
M15 6EX
+44 (0)161 275 3657
Features and facilities
Collections and resources
The Art and Archaeology holds a range of undergraduate and postgraduate theses, dissertations and art history journals.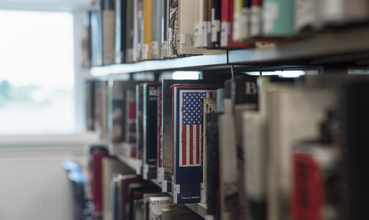 ‌Information can be provided on the use of the image databases subscribed to by the Library, as well as the dedicated Arts, Histories and Cultures section in Library Digitised Collections.
The DVD collection contains feature films and documentaries. Items from the collection are available for three night loan.
IT and copying facilities
The Library provides access to five PCs and a multi-function device (MFD) for printing, scanning and copying. An iPad is available for use within the Library.
WiFi is also available throughout the building.
Visit the IT Services website for more details about PC availability, pull printing and other services for staff and students:
The Art and Archaeology Library provides a weekend loan service from 9.30am on Friday to 5pm on Monday, after which the books can only be used in the Library.‌
The fines are at 50p per hour or part of hour. Renewals are not possible.
During the summer vacation, books are available for entire vacation period, but are subject to recall.
Get in touch