Bulletin of the John Rylands Library
The Bulletin of the John Rylands Library is a prestigious peer-reviewed journal, published by Manchester University Press. For over a century it has published research that complements the Library's world-renowned Special Collections.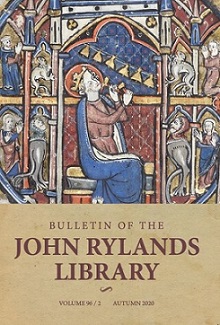 Bulletin of the John Rylands Library, 96.2
Bulletin articles are broad ranging and multi-disciplinary, enhancing the scholarship and understanding of the collections. Areas of particular interest include, but are not limited to:
Manuscript and archive studies
Textual transmission and bibliographical studies
The histories of printing and publishing
The transmission and reception of the Bible
The history of religion, with particular regard to evangelical Christianity and the Dissenting and Nonconformist traditions
Visual culture, including manuscript illumination and the printed image
Social and cultural history, and the history of medicine
The editors invite the submission of articles in these fields and welcome discussion of in-progress projects. The editors also invite the submission of descriptive articles or shorter notices pertinent to items in the Library collections and those held in other institutions of the University of Manchester.
For further information, visit the Bulletin page on the Manchester Hive website.
Access the Bulletin
Free access to full-text content from Volume 1 (1903) to Volume 80 (1998) is available through Library Search ("John Rylands Bulletin").
Articles published since 1999 are available via Manchester Hive (subscription only). Further detail is available at Manchester Hive.
A comprehensive index of Bulletin articles from 1903 to 2013 has been compiled by Charlie Hulme, a former member of staff.