Main Library
The Main Library is the largest library on campus and holds the principal collections for teaching and research in the humanities, education, law, medicine, science and the social sciences.
Opening hours
13 September to 23 December 2021
Monday: 8am to midnight
Tuesday: 8am to midnight
Wednesday: 8am to midnight
Thursday: 8am to midnight
Friday: 8am to midnight
Saturday: 9am to midnight
Sunday: 9am to midnight
Address
The Main Library
Oxford Road
Manchester
M13 9PP
+44 (0)161 275 3751
Features and facilities
Many of the Library's special collections are held in the Main Library. These include archives of the University of Manchester, Christian Brethren archives, a range of scientific books and post-1800 medical books, medical drawings and paintings, and maps.
Find out more about our current offer:
IT and copying facilities
The Main Library is one of the University's major computer cluster locations. Most of the networked computers are located on Blue 1.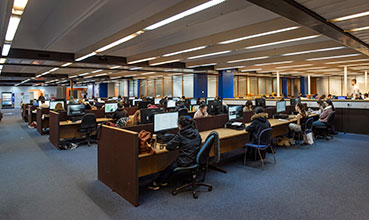 ‌Many of the PC's are provided for specific purposes such as quick-use, library catalogue access and access for external users (academic research only).
Multi-function devices (MFDs) can be found throughout the building and provide print, scan and photocopying facilities.
If you need support with IT issues please ask a member of the Customer Services Team or contact our Digital Support Service team via Library Chat and Library Help:
The Library Lounge is currently closed.

The Library Coffee Cart on Blue Ground is open from 9am.
Vending machines are also available and will provide snacks and drinks throughout the day.
Get in touch