Accessibility at the John Rylands Research Institute and Library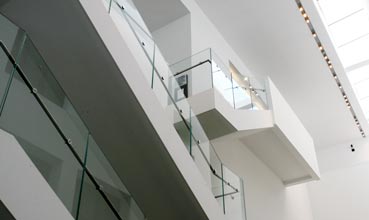 ‌Full accessibility information can be found on the AccessAble website:
We are working hard to improve accessibility and facilities. If you have questions, comments or suggestions, please call us on +44 (0)161 306 0555 or email:
We welcome assistance dogs.
How to find us
The main entrance to the Library is located just off Deansgate, in the heart of the city centre.
Due to its location there is no parking at the Library – information on nearby car parks including accessible parking is included here:
Arriving at the Library
Entrance to the Library is through a modern extension that links to the Historic building.
The modern extension is fully accessible, with level access.
We have a power-assisted entrance door to the left of the revolving door, operated by a push button. Please be careful, the floor is slate and can be slippery in wet weather. We have mats to keep the floor dry.
The reception desk is on the right where staff will greet you and welcome you to the Library.
There are portable folding stools available in the Atrium which you can take with you as you explore the Library.
Visiting the Library
There is lift access to all floors with the exception of:

The Historic entrance and toilets.

There are steps with a hand rail leading to the Historic entrance and toilets.
The corridors are wide with flat stone flags.
The Historic building is lit by the original lights so the light levels are lower.
There are large print (black on white) versions of all text in the exhibitions.
There are chairs on all levels.
There is one accessible toilet in the basement of the modern building. A RADAR key is required to access this facility, a key is available at the main reception desk.
Our staff wear purple clothing and can be found in all areas of the Library if you need further assistance.