Explore the Library
John Rylands Research Institute and Library is home to one of the world's richest and most unique collections of books, manuscripts, maps, works of art and objects.
We aim to connect people to our fascinating collections and breath-taking building.
Explore the building
For many visitors, the building is everything. Discover more about our architecture, history and what to expect when you visit:
The Historic Reading Room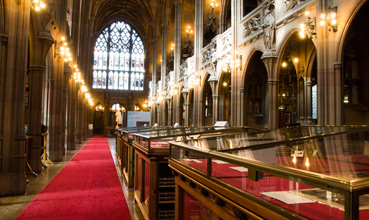 ‌The Historic Reading Room resembles the layout of a church; however the alcoves in this purpose built library were designed for private study. The glass in the high windows was chosen to let light in, but obscure the view to the outside. Today, anyone can study in these inspirational spaces or wander the room to marvel at the beauty and peaceful nature of the space.
Historic Entrance Hall and Main Staircase
Step back in time to see where readers would have originally entered the Library. With breath-taking architecture and spectacular stonework you can experience the wonder of this Neo-gothic masterpiece.
‌The original Victorian toilets can be found down the stairs from the Entrance Hall. These toilets are unchanged since 1900 and still in use. Access is via the stairs only.
The main staircase leads up to the beautiful Historic Reading Room and provides stunning views of the Gothic architecture of the Entrance Hall below and the Lantern Gallery above.
Can I take photographs?
Photography is allowed in the Library, except in the exhibition galleries. You must not use flash or tripods anywhere in the building. We do have special sessions for photographers.
You can share your photographs with us on Twitter, Instagram or Facebook.