Support available
Students can access support for many IT issues from the Digital Support Services Team.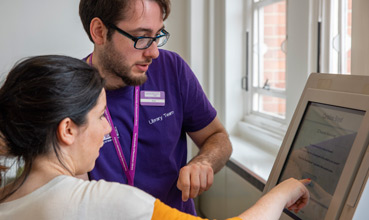 ‌Please use Library Chat and Library Help, or ask a member of Customer Services if in the Library.
How we can help
The Digital Support Services team provide help for students with:
support for personal devices such as laptops, tablets and smartphones;
installing University licensed applications;
eduroam, Wi-Fi, Virtual Private Network (VPN) and Duo 2FA;
IT account queries;
connecting to email or other University services;
technology support for Library PC clusters, group study rooms, teaching rooms;
Library laptop and iPad loans; and
general troubleshooting and guidance for library digital services.