Seeing the slums
Victorian Sanitary Survey Maps for Central Manchester
This Library digitisation project has conserved, photographed and publicly shared an important set of maps from the early 1880s showing the state of housing in Manchester during this period.
The maps provide information on the age of dwellings and the use of other buildings, and helps us to visualise the dense physical layout of inner Manchester and some of the city's most notorious slums, such as Angel Meadow and the Red Bank area.
Friedrich Engels described the dire state of housing in part of Red Bank in 1844:
"The landlords are not ashamed to let dwellings like the six or seven cellars on the quay directly below Scotland Bridge, the floors of which stand at least two feet below the low water level of the Irk that flows not six feet away from them; utterly uninhabitable, [it] stands deprived of all fittings for doors and windows, a case by no means rare in this region, when an open ground-floor is used as a privy by the whole neighbourhood for want of other facilities!"
Overlooked for 130 years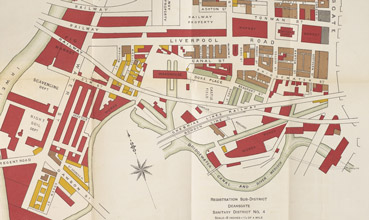 ‌The maps have been very little known and consequently overlooked by historians, urban geographers and other scholars for the past 130 years.
They were bound into specialised reports by the Medical Officer of Health for Manchester who used his influence to improve the physical living conditions and wellbeing of citizens in the city.
The housing survey and the drawing of maps was undertaken by Richard A. Bastow (1839-1920), employed by Manchester Corporation as a sanitary surveyor.
Quote from Dr Martin Dodge:
"They are a unique sanitary survey for Manchester which will be a valuable resource for researchers to better understand the social conditions in the city at the end of the nineteenth century. Moreover the maps are directly comparable to important social surveys in the late Victorian period, such as Charles Booth's poverty maps."
Digitisation of the maps
The reports were not widely distributed and the maps were printed on light weight paper, folded into the reports as inserts. Consequently many of the maps were in a fragile state.
These maps which are considered rare artefacts can now be consulted more easily by researchers.
Reports containing the maps have also been digitised, providing grim and detailed statistical accounts of the mortality experienced in Victorian Manchester.
The cause of death, occupation, age and sex is recorded for individuals in each sanitary district, along with their address and the date of death.