About the maps
The map below shows the sanitary districts defined by Doctor John Leigh (1812-1888), who served as the first Medical Officer of Health for Manchester.
A set of maps were drawn for each district exhibiting the age of each block of buildings within their boundaries.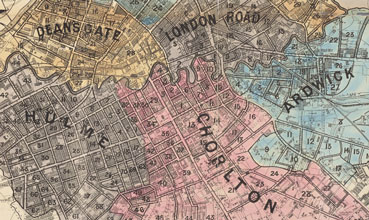 ‌There are 34 map sheets in total which cover the following districts:
Ancoats
Deansgate
London Road
Market Street
St. George's
Colour coding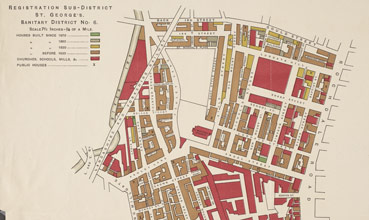 ‌The maps document the estimated age of housing in four classes indicated by colour shading:
Brown (constructed before 1830)
Yellow (constructed between 1830 and 1850)
Grey (constructed between 1850 and 1870)
Green (constructed after 1870)
The categorisation provides an indication of the condition of the properties and sanitary standards of the surrounding streets.
Civic and industrial land use is shown by red shading and public houses are marked with a cross.
Key features like rivers, railway lines, streets and small courts are named.