Alan Gilbert Learning Commons
The Alan Gilbert Learning Commons is a flexible study and learning centre boasting an onsite café, an impressive atrium providing a social meeting space with WiFi access and flexible study spaces and environments throughout the building.
Vacation opening hours
Monday: 9am to 8pm
Tuesday: 9am to 8pm
Wednesday: 9am to 8pm
Thursday: 9am to 8pm
Friday: 9am to 8pm
Saturday: 9am to 5pm
Sunday: 9am to 5pm
Please note that on Saturday, 3 July 2021 this building will be staffed by Constant Security staff only.
Address
Alan Gilbert Learning Commons
Oxford Road
Manchester
M13 9NR
+44 (0)161 306 4306
Features and facilities
IT and copying facilities
The Alan Gilbert Learning Commons is one of the University's major computer cluster locations and provides access to over 400 PCs. As well as PC clusters and quick access PCs there are 18 open plan digital screens that can be connected to laptops.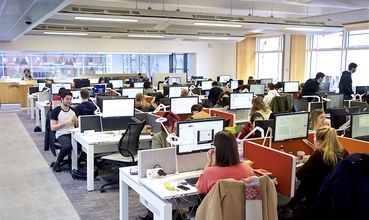 ‌There is a plug socket for each user at fixed furniture and additional plug sockets are available around the building. ‌
Multi-function devices (MFDs) can be found at each PC cluster in the Learning Commons and provide print, scan and photocopying facilities.
WiFi is also available throughout the building.
Visit the IT Services website for more details about PC availability, pull printing and other services for staff and students:
The Café located in the foyer serves a wide range of hot and cold food and drinks whilst providing a comfortable and relaxing environment for refreshment.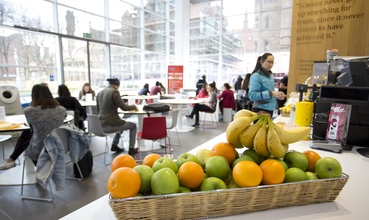 Dishes are made fresh daily and where possible using vegetables sourced from farms in the local area making the ingredients the freshest available.

Café and vending machine facilities are also available throughout the building.
Our café facilities are easily accessible to all visitors between the following hours:
Monday to Friday - 9am to 5pm
Get in touch