Our books and resources
Our library collection has approximately 16,000 books, pamphlets, reports and journals, covering a range of historical, national and international perspectives on race, migration, and the fight for social justice.
Topics covered include culture and identity, history, politics, gender, the arts and the experiences of global majority communities in Greater Manchester and the north west.
Approximately two thirds of the library collection can be borrowed by anyone with a Manchester Libraries card. Reference only material is clearly labelled and can be studied anywhere within Central Library.
For information about how to access our library books and resources please visit our 'How to use the library' webpage:
Highlights
Highlights of our collection include:
‌We hold many of the key Civil Rights texts, including the 'Martin Luther King Papers', 'The Autobiography of Malcolm X' and the 'Eyes on the Prize' documentary, as well as harder to find pamphlets, reports and biographies, demonstrating that the struggle for civil rights started much earlier than what we call the Civil Rights period, and has continued since.
Our Education section documents the debates around race and schooling in the UK from the 1960s to the present day. We also hold a wide range of teaching materials and children's books, which enable teachers to deliver elements of anti-racist education.
UK race policy and practice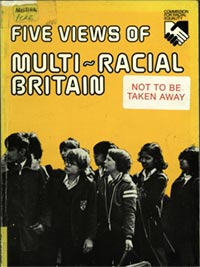 ‌
We hold a full set of publications by the Commission for Racial Equality (CRE) as well as reports published by the Runnymede Trust and Institute of Race Relations, documenting the changing issues around race relations in the UK since the 1960s.
You can now access our full collection of CRE publications online, via the University of Manchester Library Digital Collections.
Following a donation from the National Black Arts Alliance we have some beautiful books showcasing the visual art and craft traditions of African, Caribbean and South Asian cultures. We also have some significant documentary photography books, including the now out of print 'Black Panthers 1968' and Civil Rights document 'Mine Eyes Have Seen'.