Student IT support
On site support is available at the Main Library and Alan Gilbert Learning Commons as listed below. For users of other Library sites, support is available on request.
Support available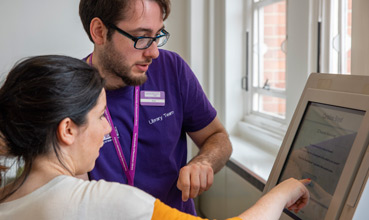 ‌The Library's Digital Support Services team provide help for students with:
IT account queries
connecting to email or other University services
support for personal devices such as laptops, tablets and smartphones
Eduroam, Wi-Fi and Virtual Private Network (VPN)
University licensed applications (including Microsoft Office 365)
Library PC cluster & printing support
Library digital services and equipment loans
general troubleshooting and guidance
Support for staff is not available through these Library services and requests should be directed through the IT Support Centre:
Where to find support
Personal Device Support
Our Library Digital Support Services team can provide support for personally owned equipment such as laptops, tablets and mobile phones and includes advice on connecting to University services, licensed software setup, operating systems, general troubleshooting and virus removal.
Note: Support for University owned staff devices is not available through these services and should be directed through the IT Support Centre.
You are required to bring your Student ID Card to access the service. Without a valid Student ID Card we will not be able to service the device.
The Library Digital Support Services team accepts no responsibility for any loss or damage of data during the repair, configuration or installation of software in your device. Please make sure you make copies of important data and remove removable media from your devices.
The Library Digital Support Services team does not currently offer support for hardware fixes or upgrades. If access to a mobile device is vital then we may advise you make alternative arrangements. iPad and laptop loans are available from the Library.
We can only install software for which you can present the installation media and a valid license. This includes the Operating Systems and common software applications such as Microsoft Office.
If during the course of a software install, virus removal or similar activity there is suspicion that the device contains illegal or illicit data, the matter will be referred to the University's IT Security Coordinator, who may request the device for further investigation.
The Library Digtial Support Services team can only assist you with your personal device and not that of any third party such as a friend or family member. If software licensed through the University is installed or requested to be installed on a device you do not own, you will be in breach of the license agreement and may be open to legal action by the owner of the intellectual property. If we have reason to believe that the device is not owned by you and/or you have requested software to be installed on a device not owned by you, we reserve the right to refuse to assist you further and/or request proof of ownership.